Welcome to the Hobo pages
of
St Louis Frank
Clarksdale, MS 38614

e-mail St Louis Frank at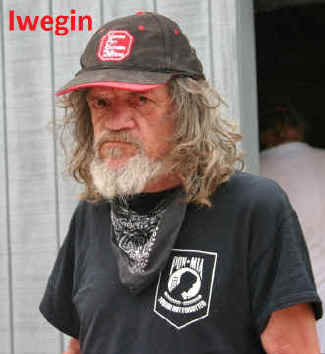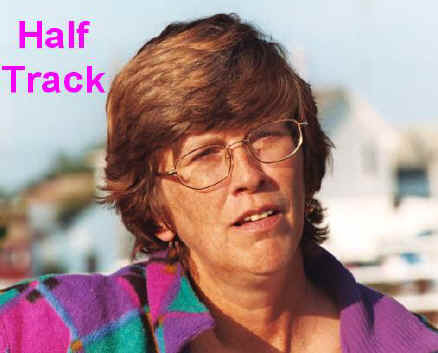 Upcoming Events:
2020 was cancelled
Britt, IA - August - 2023
National Convention in Britt, IA
In 2010, trains moved more than two billion tons of freight a year
on 140,000 miles of track. Almost all of that track is privately owned.
Coal accounts for 40% of all freight transported by train. 200,000 people
are employed averaging a $70,000 annual salary with nine companies
accounting for 90% of the North American railway revenue, estimated
at $50 billion. The big 5 of railroads are; Union Pacific, BNSF,
Norfolk Southern, CSX, and Canadian National Railway. Industry
people project that the US will face a calamity in the next ten years as
demand is expected to double for a system already groaning under congestion.
UP 3985-Challenger rolls thru St Louis - January 2004
More Hobo pics? Click the EVENTS button (left side of this page),
and then HOBO CONVENTION-Britt, IA
You can see Preacher Steve doing the Hobo Shuffle!
Hobo Musician pics? Click the MUSICIANS button (left side of this page),
and then choose from Alphabetical List.


Darjeeling Himalayan Railway December-2017 photos
Darjeeling Himalayan Railway runs 55 miles in India between Darjeeling and
New Jalpaiguri. It first operated in 1881. It is a narrow gauge RR at only
2 feet between rails. While diesel locomotives run today, Darjeeling RR
still runs a British built B-Class steam locomotive. Darjeeling, India is in the
Western part of India close to the Nepal border.
Train Dummy was able to ride this historic train in December-2017.
Golden, Colorado Railroad Museum - October - 2014
In Memory of GrainCar George
Jimmy Wright
d December 28, 2020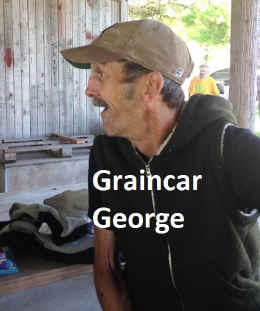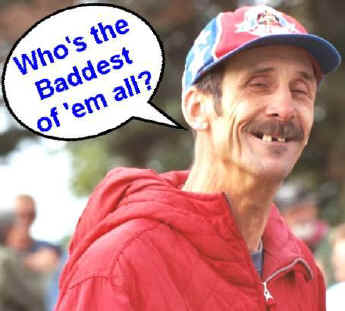 OH what a good Friend. We traveled together a few times and it was always
a great trip. Graincar was always full of surprises and you never knew what
to expect. We ended up in Mississippi several years ago and slept in the
bushes of an upscale Motel making use of their facilities early the next morning.
Played a Casino in Missouri, sleeping in the parking lot, while heading to St Louis.
I went home and Geo took a Greydog to Cleveland. Good times all the way.
In Memory of Quiet Mike
Michael Steven Wampole
b September 21, 1951 Anderson, IN
d September 3, 2020 South Williamsport, PA
Survived by two daughters: Sarah Crabtree & Rachael Hummel.
Mike had a Masters in Library Science and served as
Librarian at Perkiomen School in Pennsburg, PA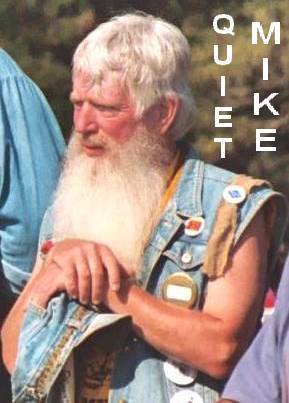 In Memory of Tuck
Darrel L. Ray
b November 3, 1960 d June 20, 2019 St Paul, MN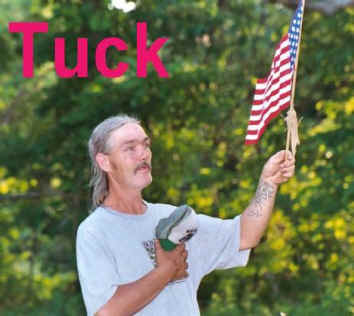 King of Hobos in 2007 & 2017
In Memory of Guitar Whitey
Robert J. Symmonds
b May 1, 1921 d July 3, 2018 San Luis Obispo, CA
Whitey was a Sailor in WWII, a poet, a guitarist, and a Hobo.
In Memory of Frog - Gerard R. Fortin
b March 6, 1950 d December 10, 2018 Helena, MT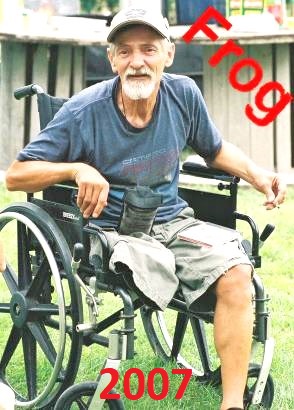 King of Hobos in 1997 & 2013
Frog traveled the country & was out there for 30+ years.
A great friend & always a positive attitude.

In Memory of Adman - Todd Waters
b October 8, 1947 Keokuk, IA d July 7, 2017 Wayzata, MN

King of Hobos in 2004
In Memory of Ohio Tom - Tom Curtis

b January 19, 1955 Sherwood, OH d March 26, 2016 Antwerp, OH

In Memory of Hobo Santa - Dennis LeCount
b August 9, 1940 Taylorville, IL
d February 26, 2016 Homosassa, FL

In Memory of Stretch - John M. Wilson
b January 20, 1968
d November 9, 2015 Wilcox, AZ
King of Hobos in 2008
In Memory of Be Gone Norm-Norman E. Guthrie
b March 29, 1932 - d July 21, 2014

In Memory of Milwaukee Mike-Michael M. Hobbs
b January 7, 1939 - d July 4, 2014
In Memory of Hobo Minstrel-Fran DeLorenzo
b Oct 9, 1927 - d Aug 13, 2013
In Memory of Iowa Blackie-Richard Allan Gage
b Sep 21, 1948 - d Feb 24, 2011 New Hampton, IA
King of Hoboes in 1993
Blackie was an Iowa Original catching out in 1963 and the RR became his life.
He didn't leave Iowa much in the later years and his health had been failing
since 2007. He remained in New Hampton mostly, but traveled to Britt, IA each
year for the Hobo Convention; even though he was LOUDLY & OPENLY critical
of Britt's treatment of the Hoboes. In addition, Blackie did not get along with
many of the younger "Kids" on the road. He was considered cantankerous
and his overall appearance was scary to mothers and children alike. None of
the Iowa Librarians cared to see him park at a library table for the day while
he did his research for his annual calendar. His poetry was published and he
would sell his poetry along with his calendars for an income. I always
looked forward to receiving a post card from Blackie just to admire his
handwriting. His writing was very very small, but perfectly readable and he
could pack a story onto a small postcard. While standoffish at times, he was
enjoyable when in private. I fondly remember my visits to Blackie's house
in New Hampton on my way to Britt. I remember being with Blackie in
Mt Pleasant, Iowa in Sep-1993 at The Old Thresher's Reunion right after he
became King in Britt, Iowa in Aug-1993. Fond memories of a good Hobo Friend.
In 2019 I stopped at the Carnegie Cultural Center (previously Carnegie Public Library)
in New Hampton, Iowa as The Center maintains info & pictures of their
Famous Iowa Hobo/Poet. Thru the years, I had talked to Juanita Andersen when
it was The Carnegie Public Library. Juanita was the Librarian there from 1995
to 2016 and she was also a personal friend of Iowa Blackie. I had previously forwarded
to Juanita some photos, postcards, & memorabilia concerning Iowa Blackie, as she
was gathering info after Blackie's death in 2011. Blackie also had left most of his
personal effects for Juanita for the Cultural Center. Juanita retired in 2016 and
moved away and since 2016, the new director is Jill Eike. Jill was kind enough
to jump on her Scooter and meet me at The Cultural Center.
Jill dug out a file box containing much of Iowa Blackie "stuff".
If you had ever received a postcard or letter from Blackie you were amazed as
I was when you saw the miniscule lettering however it was 100% readable.
Here are a few pictures from August-2019.
In Memory of Road Hog USA-Don Desimone
b Nov 26,1940 d Jan 13, 2011-Reno, NV
King of Hoboes in 1992
Road Hog USA, a great friend. Road Hog came out of California as a young
man due to family problems. He teamed up with some fellows in a hobo jungle
as a teenager and with their help, got the right clothes and built a bedroll
and headed North. Road Hog told me that when he saw Mt Shasta from the
train, he knew this was the better life he wanted. He said I never looked back.
I was always glad to run into Road Hog as he could brighten your day just being
around him. No matter what town you were in Road Hog knew the ins & outs;
where to get a shower, cheap food, and a safe place to bed down. I remember
being up early one morning as the sun was just coming up for the day and
walked uptown to maybe find something to eat and as I approached a small
cafe, I could hear a harmonica playing and then I heard Road Hog singing
"You Are My Sunshine." No one was around, Road Hog was just playing for himself
and the joy of being on the road for another day and being free to carry on
as he pleased. Always a big smile and a kind word. A joyous man to be
around and he will be missed by all who knew him.
In Memory of Little Hobo-Harold Tim Kuhn
b Mar 6, 1916 - d Jul 13, 2010 Coalport, PA

In Memory of Hobo Duane Lee Tonsager
b Jan 23, 1938 Eagle Bend, MN
d Apr 12, 2010 Staples, MN

In Memory of Hobo Great Grand Duke of Historians
Larry "Loco Larry" O'Briant
b Mar 1, 1948 d Aug 29, 2008 Amory, MS

In Memory of Hobo "Preacher Steve" Stewart
b Dec 11, 1948 Iowa d Aug 28, 2008 MN
King of Hobos 1999
In Memory of Hobo Jerry "Liberty" Justice
b July 12,1935 d April 23, 2008 Raytown, MO
Hobo King in 1996
In Memory of Hobo John F. O'Connor
The Sidedoor Pullman Kid
b June 4, 1917 - New Haven, CT
d February 8, 2008 - Phoenix, Arizona
King of Hobos 1994
Married 1950's to Florence Wyckoff - Syracuse, NY
Sidedoor caught out in 1930 and traveled & worked the land for the next
25 years. He lived in most of the established hobo camps at one time or another
as he traveled the country. He took time out in the 1950's to get married and
worked as a regular married man as a merchant marine and highway laborer
until moving to Phoenix in 1977. When his wife died in 1985, Sidedoor hit
the road again meeting up with old friends around the country. Sidedoor was
elected King of the Hoboes in 1994 in Britt, Iowa at the annual National Convention.
I last talked to Sidedoor at the 2003 Pennsburg Hobo gathering and he
recounted his travels through one of his favorite stops in Dubuque, Iowa.
He liked the Dubuque City Mission as they made his eggs to order!
Pennsburg brought together four of the most senior of the Old-time Hobos in
Overland Slim-1919, NY Greenie-1918, Sidedoor-1917, and Little Hobo-1916.
Sidedoor referred to the foursome as the 'stair steps' due to their ages being
one year apart. Sidedoor represented one of the last of the depression
era independent hoboes and is missed by all.
In Memory of Hobo Benita Sankey
Slo Freight Ben
b March 23, 1911 - d September 28, 2007
Grand Duchess in 1981
3 time Queen of Hoboes 1984, 1989, 1999
Queen Mum in 2006
Hobo Queen for Life in 2007
In Memory of Hobo Maurice W. Graham
Steam Train Maury
b June 3, 1917 - Atchison, Kansas
d November 18, 2006 - Napoleon, Ohio
Married April 30, 1938 to Wanda Marion Matyanczyk
b May 11, 1918 d June 17, 2011
Two daughters:
Alice L. b 9-12-1939 & Karen S. b 1-11-1944
Maury first caught out in 1931 at the age of 14 to live out on the Iron Road
and was known to his other hobo friends as "Idaho". In the early seventies,
he was referred to as "Steam Train" because of his fondness of the earlier
steam engines. Steam Train made his way to Britt, Iowa for the first time in
1971 for the National Hobo Convention. Two years later, "Steam Train Maury"
was elected King of The Hobos. Due to his colorful personality and great
knowledge of trains, hobos, nature, and the countryside, Maury would eventually
be elected King an additional four times in addition to becoming a National celebrity.
At the 2003 National Hobo Convention held in Britt Iowa, Steam Train was
named "Grand Patriarch For Life" by the hobo family.
He made appearances on radio programs and was the topic in newspaper articles
numerous times throughout his life. Several cities claimed "Steam Train" as their
adopted son and welcomed his visits to their annual fairs and celebrations.
Most often, he was the honored guest of the mayor and rode in the local parade
as an honored guest. Maury appeared on the TV program - "To Tell The Truth" and
also appeared on the late night "Tom Synder Show" in the mid-seventies.
He served in World War II, was a cement mason and a member of Local 886
for 65 years, and will be sadly missed by the Hobo family.

In Memory of Hobo Euan K. Greene
New York Greenie
b October 14, 1918 - d June 11, 2005
Married June 11, 1949 to Kathleen V. Vaughn
b March 31, 1920 - d November 5, 1992
Greenie was a 1949 graduate of the University of North Carolina-Chapel
Hill with a Bachelor of Science Degree.
He served his country in three major campaigns. Greenie was a Ham Radio
Operator-KA2FTU. Outside of these and other accomplishments, Greenie
was just a cool dude, spoke a few foreign languages, had a great sense
of humor, and Greenie was liked by everyone that knew him.

In Memory of 2001 Hobo Queen
Sharon "Derail" Fahey
born - April 4, 1942
died - December 31, 2003
In Memory of Hobo Geo May - Author

George W. May
born - November 1, 1909 Metropolis, IL
died - April 29, 2003 Metropolis, IL in
the same house he was born in.
Hoboed USA, Cuba, Europe, & Mexico
WHAT IS A HOBO?
Well, there are a lot of different ideas of what makes a person a Hobo.
A consistent theme throughout the years relates to INDEPENDENCE and TRAVELING
around the country. A dysfunctional family situation has put youngsters on the
road and other unfortunate circumstance has made a Hobo out of many men.
As the nation's economy went through periods of decline, people moved about
the country seeking a way to make a living. Those circumstantial Hoboes caused
by the hard times of the 1930's that are still alive are now in their 80's and 90's and
provide a link to those earlier days. After the economy picked up, many Hoboes
moved back into a more conventional life, got permanent jobs, raised a family,
and have not ridden the rails in over 50 years. In other cases, the Hobo continued
to be more comfortable "On the Road" and away from mainstream society.
Hobo Gatherings held in such cities as Britt-IA, Pennsburg-PA, Amory-MS,
Jackson, TN, Baldwin, KS, and elsewhere across the country, draw up to 100
Hoboes from age 20 to 90 years. Most are not actively living on the rails or
road, but many remain fiercely independent and still travel the country on a regular basis.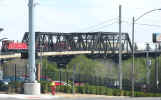 The Hobo of the 21st century may very well have an e-mail address along
with a cell phone and probably travels by auto, train (with & without a ticket),
plane, bus, or by hitchhiking.
If you're interested in more complete info on Hoboes, click on the Hobo Links below,
buy a Hobo book, or better yet, attend one of the Hobo Gatherings
and visit with a real, live Hobo.
HOBO LINKS
click on banner
Copyright © 1998-2021 MojoRat LLC. All rights reserved.