Amory, MS Annual Railroad Festival
since the late 1970's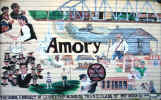 Thousands of area residents and up to 100 of the Hobo Family make their way to the north eastern part of Mississippi to join in celebrating Amory's current and past tie to railroading. Amory was founded in 1887 as a railroad town. The K.C.M. & B. Railroad came through the area and chose Amory as a stop as Amory is almost exactly halfway between Memphis and Birmingham. Amory's Frisco Park, located on Main Street across from the train yard, serves as the center for the week's activities. The Amory train yard is quite active with trains and crews coming and going daily and throughout the night. The Hobo jungle during the festivities is located alongside of Steam Engine No. 1529 inside the park. The Frisco Railroad

converted to diesel power in 1952 and donated this 85 ft engine to the City of Amory in 1953. No. 1529 was the last steam engine to make a passenger run for Frisco. This engine also made a famous journey in 1934 when it pulled fourteen passenger cars through Amory to Tupelo, MS. Then President Harry S. Truman and Eleanor were on their way from Washington D.C. to Tupelo. The engine was built by Baldwin in 1926, weighed 589,000 lbs, carried 11,700 gallons of water, and carried 4,500 gallons of oil. The diameter of a wheel is 62 inches!

The Hobo community also has a longstanding tie to Amory. 5-time King of the Hoboes, Maury "Steamtrain" Graham has attended this festival since its inception and has been through Amory many times before in the early years. If you look at the photo of No. 1529, you

can make out Steamtrain's mark dated April 3, 1980. Almost all of the 20,000 people in attendance recognize Steamtrain on sight and a steady stream of well wishers descend on the Hobo Camp to pay their respects to this elderly former Hobo King. Steamtrain doesn't dance in the back of a pickup truck as he used to, according to one elder resident, but you'll hear many stories about Maury's antics throughout the years from the locals. In 2004, one woman and her husband brought their young daughter to sit on Maury's lap for a picture - same as the mother sat for her picture some 25 years earlier. The mother says she will treasure both pictures and save them for her daughter. Butterbean and Louis "Hambone" Tucker are two of the locals that always stop to say howdy to Steamtrain. Steamtrain's wife Wanda

keeps a watchful eye on the goings on as Steamtrain has some years on him and a series of health issues keep him from jumping into pickups to dance one more time. Other Hoboes also help Maury as needed; to meet people at camp, make the opening ceremonies, attend the early morning TV appearance on Fox, and ride in the parade.
Maurice W. Graham made his last trip to Amory for the 28th Annual Railroad days in April-2006. Maury died on November 18, 2006 at the age of 89. He will be missed by all. He is survived by his wife Wanda and two daughters.
The festivities for the week include a parade, a 10K run, a block long food court, a carnival, an antique car show, an arts & crafts show, pioneer demonstrations at the museum, and four days of musical entertainment. If you're looking for a good time celebrating history of the good ole days, join us for Railroad Days in Amory, MS.
CLICK on the links below for photos & stories from the years.