The 2007 Britt Hobo gathering officially kicked off at 7 P.M. on Thursday August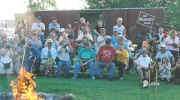 9th at the Fire Lighting Ceremony under reigning 2006 King Iwegan and Queen MS Charlotte. Redbird Express explained the story and led the salute to the Four Winds.

Here's a Russian film crew doing an

interview with our Hobo scientist, Prof Skinner. The professor is internationally known as an expert in the field of Napierian logarithms. In addition, Steve has recently released his latest treatise titled, "Sexual Promiscuity Among Naked Mole Rats."
On Friday, August 10, 2007 wedding bells were heard for Baloney Kid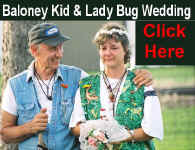 and Lady Bug. Preacher Steve led the services which included bride maids, groomsmen, a flower girl, ushers, escorts, photographers, musicians, hecklers, hoboes, cake, and punch at the reception, along with several women crying, including the Bride! Click on the picture to see how it turned out.

The Hobo musicians entertained the large crowd

with a variety of songs. Hobo musicians playing in 2007 were Stoney Footwalker, Graincar Geo, Danville Dan, Backwoods Jack, Luther the Jet, Road Hog USA, Serenity, Sunrise, Grandpa Dudley, Bassman Ken, Captain Dingo, Baloney Kid, Pied Piper, Don Grubb, Birdman, Jason Eklund, Randy Torgerson, Liberty Justice, Dave on doghouse bass, and Windy City Tom.
Many of the Hoboes set up camp near the boxcar and those with campers
preferred the Hobo Pavilion area just East of the showers.
No one went hungry as the kitchen was manned continuously by an experienced crew such
as Road Hog,

Keystone Bob, Preacher Steve,

Roadkill, Sheryl, Virginia, and several others.
Special mention is given to O So and White Lightning as they handled the evening meals
for two straight days. Meals consisted of flapjacks, eggs, sausage, stew,
two kinds of soups, corn on the cob, a medley of vegetables, cucumbers,
tomatoes, potatoes, watermelon, and ice cream bars for dessert.
If you missed out on a meal, it was your own fault.


The Hoboes and others convened at the Evergreen Cemetery to

pay their
respects to the Hoboes buried in previous years. A VFW Color Guard was in
attendance also. The Texas Madman presided over the ceremonies and
the featured tribute speakers were Wanda Graham and her two daughters.
A group hobo picture followed the cemetery services.
The Hobo gatherings are a great place to meet new friends and to jaw with old friends.
Parade day and free Mulligan stew!
page added August 20, 2007