VEGAS REOPENED IN JUNE-2020

Vegas shut down in Mid-March of 2020 due to the Corona Virus.
Vegas shut down previously only once for 15 hours.
It was in November-1963 for the funeral of JFK.
2020 was not a good year for Vegas.
Visitors dropped 55% to only 19 Million.
Las Vegas & Gambling
Do you Gamble? Well sure you do, and it's no surprise as most people
now have a Casino a short distance from their home. in 2019, there
are 1,400 Casinos spread across 50 states! Have you been
to Vegas? No? Well get yourself a ticket and join the other
3.5 MILLION people per month that arrive in the Mojave Desert
and that flop into Vegas for Good Times, Good Rolls, and Fast Action!

Vegas is no longer the Gambling Capital of the World as Macau, China
now has $33 Billion in revenue compared to 6.5 Billion on the Las Vegas
Strip. In 2020, Japan has approved Casino licensing and Japanese
Casinos are expected to also exceed Las Vegas!
A few statistics about those 42 million people in 2019 going to Vegas annually:
21% are 1st time visitors & only 1% of the 1st timers came for gambling.
48% are returning for vacation or pleasure,
20% are returning for a convention, and
5% are returning to gamble.
The average 2019gambling budget was $541 per person($650 in 2007).
54% arrived by ground & 46% landed on one of the 850 daily flights.
26% are from California and 16% are foreigners.
Almost everyone hangs around for 3.5 nights and 4.5 days.
65% attended some kind of show with only 26% at a "Big Name" show.
79% were married earning $40,000 annually or more.
Average age was 44.
89% of all people were very satisfied with their trip to Vegas
according to the Las Vegas Convention & Visitors Authority.
I wonder if the Convention Authority interviewed anyone
coming out of the numerous Pawn Shops in the Vegas area?


Here's a great deal! What? The Casino will only take 3% of your Tax Refund!



You're a monkey if you take this deal.


Jimmy Vaccaro (b 9-19-1942) of Las Vegas had the 2016 Presidential Election
predictions correct with Donald Trump for the republicans and Hillary Clinton
for the democrats. Jimmy picked this way before Trump & Clinton
won enough votes. You can't legally bet political contests in Nevada, but Jimmy
posts his line anyway. We will wait and see what Jimmy comes up
with the 2020 election?. Jimmy has been around,
starting out with a sports book in 1975 at the Royal Inn
with Michael Gaughan son of Jackie of the downtown El Cortez.
John Davis Gaughan Sr. (b 10-24-1920 Hastings, NE d 3-12-2014 Las Vegas)
was the legendary owner of the El Cortez and several other casinos.
Jimmy went to Barbary Coast in 1979 and then
to MGM Grand in 1985. Also was at Golden Nugget, The Mirage,
and William Hill Sports. Left Vegas in 2003 for Atlantis in the
Bahamas until returning to Delaware in 2009. In 2013, Jimmy
reunited with Michael Gaughan at the South Point Resort.

You may remember an earlier bookmaker, Dimetrios Georgios Synodinos
better known as Jimmy 'The Greek' Snyder (b 9-9-1918 d 4-21-1996),
The Greek was a notorious gambler and it was told that he placed a $10,000 bet
at 17-1 odds on Truman beating Dewey in the 1948 Presidential Election.

Vegas keeps renovating and always is looking for ways to keep you coming back.
For example, in March-2014 the High Roller wheel opened to great fanfare.
This observation wheel is 550 feet high and rotates 28 pods that hold 40
people each. It's not a Ferris wheel as it moves only 1 foot per second.
The Wheel is located at the end of the new LINQ Promenade between the
Flamingo & the LINQ Hotel. The LINQ Hotel(2014) was formerly the
Quad(2012) which was formerly the Imperial Palace(1979). The Promenade
is pretty slick and features forty shops of retail, dining, and
entertainment, including a bowling alley.
LINQ Promenade February - 2015

In November-2018 "Fly Linq" was added. It's a Zipline from Las Vegas Blvd
to the High Roller Wheel 1,121 feet away.
It flies twelve stories above the Promenade at 35 MPH for $26.
Change is inevitable in Vegas as the Boutique Cromwell opened in 2014
which was Bill's(2007), which was formerly the Barbary Coast(2005).
As I left Vegas on Tuesday February 10, 2015 the Clarion Hotel & Casino was imploded
at 305 Convention Center Drive, just off the Strip. Formerly known as the
Royal American, Paddlewheel, Debbie Reynolds Hollywood, and Greek Isles.
The Clarion is the 13th joint to be imploded since 2007.
The new owner, Lorenzo Doumani, paid $22.5 million in cash for
these 6 acres, and says his upcoming project will be outstanding!
A non-gaming 45 story luxury hotel is scheduled to open in 2023.
The 5 star Majestic-Las Vegas will have 720 rooms at a cost of $850 million.
Here's a list of other IMPLODED joints:
Oct. 22, 1993 the Dunes(5-23-1955) made way for Bellagio,
at 3600 Las Vegas BLVD.

Nov. 7, 1995 the Landmark(7-1-1969) made way for the Las Vegas
Convention Center parking lot at 2901 Las Vegas BLVD.

Nov. 26, 1996 the Sands(12-15-1952) imploded for the Venetian,
at 3355 Las Vegas BLVD.

Jan. 1, 1997 Hacienda(10-17-1956), (previously named
Lady Luck-1953) becomes Mandalay Bay,
at 3950 Las Vegas BLVD.

Apr. 27, 1998 Aladdin (previously Tallyho Feb-1963, and
King's Crown Tallyho in 1964), gives way to a new Aladdin
on 4-1-1966, which becomes Planet Hollywood on 4-17-2003,
at 3667 Las Vegas BLVD.

October 3, 2000 El Rancho Casino (formerly Thunderbird 9-1-1948, then
Silverbird 1-1-1977), then renamed El Rancho Casino in 1982 and
subsequently closed on 7-6-1992. Becomes Fontainebleau in Feb-2007,
but construction halted In June-2009 for bankruptcy and Carl Icahn
acquires both Thunderbird and Algiers properties for $150 million
on February 18, 2010. Icahn put it up for sale at $650 million and in
August-2017 the property was sold for $600 million
to Witkoff Group/New Valley LLC.
In 2018 Steven Witkoff announces The Drew-Las Vegas will be opened in 2020.
In 2020 Steven Witkoff now says The Drew-Las Vegas will be
opened later in 2022 with 67 stories at 2755-2777 S. Las Vegas BLVD.
In February 2021 Koch Industries buys a 75% stake along
with Jeffrey Soffer of The Fountainebleu Development Company.
NOTE: Previously, there was another El Rancho Vegas(2500 Las Vegas Blvd)
that opened on 4-3-1941, and burned down in 1960 and was never rebuilt.

October 23, 2001 Desert Inn(4-24-1950) makes way for Wynn,
at 3131 Las Vegas BLVD.

March-2005 Algiers(1953) 3.6 acres gives way to the Fontainebleu,
which bankrupts in 2009. Property changes hands several times and ultimately
is owned by Phil Ruffin. Ruffin sells the 3.6 acres to Wynn in 2018,
at 2845 Las Vegas BLVD.

Jan. 11, 2006 Castaways Hotel property(1963) at 2800 Fremont Street
downtown (formerly Showboat 9-3-1954) was taken over by Station Casinos
in 2004 for $33.75 million. 25.5 acres offered for sale in 2009 for $39.5 million.
For sale on 8-4-2016 at $6.6 million. Finally sold on 5-8-2018 for $4.5 million.
In 2020 sits empty.

Feb. 14, 2006 Bourbon Street(1985) at 120 E. Flamingo Rd (formerly
Shenandoah May-1980) is imploded by Harrahs, the new owner,
and becomes an employee parking lot.

May 9, 2006 Boardwalk(1989), originally a Holiday
Inn(1965) made room for City Center, at 3750 Las Vegas BLVD.

March 14, 2007 the Stardust(7-2-1958) was replaced by Echelon Place
which fails in August-2008 and was sold in March-2013 for
$350 million to Genting Berhad Group out of Malaysia.
After many delays, Resorts World construction began in 2017 and was
expected to open in 2020 at 3000 Las Vegas BLVD.
Oops, now scheduled for June 24, 2021! Extension is due to
added facilities such as a 5,000 seat theater, a 75,000 sq ft
24 hour club, and two towers containing 3,500 rooms.
The rooms will be 1,700 in the LV Hilton, 1,500 in the Conrad,
and 300 in the High Roller Wing(Crockfords).
These 87 acres, partnered with Hilton Worldwide Holdings Inc,
will be the most expensive Las Vegas joint built at 4.3 Billion.
Genting Berhad owns Resorts World LLC in Vegas along with 47 other
casinos scattered around the globe.


Nov.13, 2007 New Frontier(2nd time in1999), (formerly The Frontier(1960's),
formerly New Frontier(1st time on 4-4-1955), formerly Last Frontier(10-30-1942),
formerly 91 Club(1941), formerly The Ambassador(May-1936), formerly
Pair-O-Dice(5-5-1931), formerly Pair-O-Dice Speakeasy(1930), is imploded and
the 35 acre site is purchased by James Packer(Crown) in 2014 for the new Alon Resort.
Alon work is halted in Dec-2016 and site is FOR SALE at $400 million.
Yes, that James Packer is the one that was dating and engaged to Mariah Carey.
They broke up in August-2016 and settled in December-2017 with Mariah getting millions!
Wynn bought the Alon property in January-2018 for $336 million. In addition to
the Alon 35 acres at 3120 Las Vegas BLVD, Wynn bought 3.6 acres(ex-Algiers Hotel)
from Phil Ruffin at 2845 Las Vegas BLVD that was adjacent to the Alon property.
NOTE: Ronald Reagan did a song & dance vaudeville act in the Ramona Room
in Feb-1954 when it was known as The Last Frontier.

November 9, 2010 A wing of The Tropicana from 1957 was brought down
at 3801 Las Vegas BLVD.

February 10, 2015 The Clarion, formerly Royal Inn(1970), Royal Americana(1980),
Paddlewheel(1983), Debbie Reynolds Hollywood(1993), and Greek Isles(2001),
closed on 9-2-2014 and was imploded for the new owner-Lorenzo Doumani.
A non-gaming 45 story luxury hotel is scheduled to open in 2023.
The 5 star Majestic-Las Vegas will have 720 rooms at a cost of $850 million.

June 14, 2016 The Riviera(4-20-1955) closed on 5-4-2015
and The Monaco Tower was imploded and, on
August 16, 2016 the Monte Carlo Tower was brought down at
an estimated cost of $42,000,000!
Land is used for expanded Las Vegas Convention Center
at 2901 Las Vegas BLVD.
Early Casino Resorts in Las Vegas Blvd Strip Area
City of Las Vegas is downtown area.
Winchester, NV starts at Sahara Ave going South to Desert Inn Road.
Paradise, NV starts at Desert Inn Road going South toward Airport.
1st-El Rancho Vegas-2500 Las Vegas Blvd opened April 3, 1941,
was destroyed by fire on July 16, 1960 and demolished in 1978.
Now owned by Hilton Grand Vacation Club at 2650
Las Vegas Blvd with 37 acres now owned by Las Vegas
Festival Grounds at 2594 Las Vegas Blvd.
2nd-The New(Last) Frontier-3120 Las Vegas Blvd opened October 30, 1942,
and closed on July 16, 2007 and was demolished on November 13, 2007.
ex Pair-O-Dice (1930), and ex New Frontier (1955), now is owned by
James Packer of Crown Resorts and has been for sale since May-2017 for
$400 million. Crown sold the 35 acres to Wynn in January-2018 for $336 million.
NOTE: Ronald Reagan did a song & dance vaudeville act in the Ramona Room
in Feb-1954 when it was known as The Last Frontier.
3rd-Flamingo-3555 Las Vegas Blvd opened as Pink Flamingo on
December 26, 1946. Renamed Fabulous Flamingo on March 1, 1947 and then
Hilton Flamingo. Last of Bugsy Siegal's buildings were torn down on December
14, 1993 and the complex was renamed Flamingo Las Vegas.
4th-The Thunderbird-2755 Las Vegas Blvd opened September 1, 1948 and
became Silverbird on January 1, 1977 and then became El Rancho Casino on
August 31,1982 which closed on July 6, 1992. The Thunderbird
is Imploded on October 3, 2000 and becomes Fontainebleau.
In 1953, the Algiers opened next door at 2845 Las Vegas Blvd to
handle the Thunderbird overflow. The Algiers, owned by
Marianne Kifer(Hicks) Daughter of Marion Hicks(Thunderbird owner),
carries on until August-2004 until acquired by Fountainebleu
in 2005. In June-2009 Fountainebleu goes into bankruptcy and
Carl Icahn acquires both Thunderbird and Algiers properties for $150
million on February 18, 2010. Icahn put it up for sale at
$650 million and in August-2017 the property was sold for
$600 million to Witkoff Group/New Valley LLC.
In 2018 Steven Witkoff announces The Drew-Las Vegas will be opened in 2020.
In 2020 Steven Witkoff now says The Drew-Las Vegas will be
opened later in 2022 with 67 stories at 2755-2777 S. Las Vegas BLVD.
In February 2021 Koch Industries buys a 75% stake along
with Jeffrey Soffer of The Fountainebleu Development Company.
5th-Desert Inn-3131 Las Vegas Blvd opened April 24, 1950 and operated until
August 28, 2000. Imploded on October 23, 2001 and Wynn is built on the site.
6th-Sahara-2535 Las Vegas Blvd opened October 7, 1952 to May 16, 2011. Formerly
Club Bingo site in 1947. Sold to SLS (Style-Luxury-Service) and reopened
on 8-23-2014 after extensive remodeling. Sold to Meruelo Group in May-2017.
Meruelo spends $100 million in upgrades into 2019.
7th-Sands 3355-Las Vegas Blvd opened December 15, 1952 at a cost of $5,500,000
and closed on June 30, 1996. Now the Venetian.
8th-The Royal Nevada-3100 Las Vegas Blvd opened April 19, 1955
but was absorbed by the Stardust in 1959.
9th-Riviera-2901 Las Vegas Blvd opened on April 20, 1955 and closed on
May 4, 2015. Purchased by the Las Vegas Convention & Visitors Authority
and was imploded in 2016. Liberace was earning $50,000
a week here and cut the ribbon at the grand opening.
The Original Oceans 11(1960) and Casino(1995) movies were filmed here.
10th-Dunes-3600 Las Vegas Blvd opened May 23, 1955 and operated to
January 26, 1993. Now Bellagio.
Notes on some very early Joints in the Las Vegas area
Pair O Dice 1930 - Red Rooster 1931 - El Rancho 1941 - Club Bingo 1947
Las Vegas Blvd was then know as Arrowhead Hwy, Los Angeles Hwy, or Hwy 91.
Pair-O-Dice opened in 1930 near 3100/3120 Las Vegas Blvd as a private club or
speakeasy. They were legally licensed on 5-5-1931 and then opened to the
general public. They offered roulette, craps, & blackjack. Also had orchestras, singers,
dancers, and Italian food. In May of 1936, the joint was renamed The Ambassador.
In 1938, it was sold to Guy McAfee from California. He remodeled it in 1939 and
it was renamed 91 Club. Robert E. Griffith bought the club in 1941 and built
The Last Frontier Club around the existing club, opening the new area on 10-30-1942.
On 4-4-1955 another newly built New Frontier property was added to the
existing buildings. Renamed The Frontier in the 1960's. On
9-22-1967, Howard Hughes bought everything for $15 million. In 1988 it was
bought by Margaret Elardi. In 1998 it was bought by Phil Ruffin and the name
was changed back to The New Frontier in 1999. New Frontier closed on
7-16-2007 and was demolished on 11-13-2007.
In 2014 sold to Crown Resorts and for sale since May-2017 for $400 million.
Wynn bought the Alon property in January-2018 for $336 million. In addition to
the Alon 35 acres at 3120 Las Vegas BLVD, Wynn bought 3.6 acres(ex-Algiers Hotel)
from Phil Ruffin at 2845 Las Vegas BLVD that was adjacent to the Alon property.
Red Rooster opened 4-1-1931 at 3400 Las Vegas Blvd after receiving the 1st
legal gaming license from the State of Nevada. They had one blackjack table and
a few slot machines. Bad luck though as they lost their license on 7-7-1931 due to
being raided by the Feds for selling alcohol! Yea, prohibition was in effect.
More bad luck as the joint burned down in July-1933. Rebuilt and reopened in
December-1933. Then sold in 1953 and renamed Hi-Ho, then Patio Club, then
Sans Souci Hotel. In 1963, The Castaways Casino was built on this site.
Howard Hughes bought it in 1970 and it closed on 9-2-1987. The property was
purchased by Steve Wynn and The Castaways Casino was demolished,
making way for The Mirage which opened on 11-22-1989.
El Rancho opened 4-3-1941 at 2500 Las Vegas Blvd by Thomas Hull. It had a
swimming pool, showroom, buffet, numerous slot machines, and four table games.
Lasted until destroyed by fire on 6-17-1960 and then sat vacant for 40 years.
Howard Hughes purchased the 60 acres of land on 5-20-1970. Hilton Grand Vacation
Club(2650 LVB) purchased land in 2001 for a time share that opened 2-4-2004.
The Las Vegas Festival Grounds opened on 37 acres in 2015 at 2594 Las Vegas BLVD .
Club Bingo opened on 7-24-1947 at 2535 Las Vegas Blvd by Milton Prell
with 240 rooms. Replaced 10-7-1952 by Sahara. Sold to Del Webb in 1961.
Closed on 5-16-2011. Sold to SLS(Style-Luxury-Service) and reopened on
8-23-2014 after extensive remodeling. Sold to the Meruelo Group in May-2017.
While the major action is on the Las Vegas Boulevard Strip,
don't overlook Fremont Street in downtown Vegas as it has
the old school charm, lower betting limits, and the
seediness of the early days has been cleaned up.
I first went to Vegas in the 1960's and I stayed at the Stardust, so I always went
back to the "Dust" for old times sake until the joint finally closed on
November 1, 2006 and the buildings were imploded on March 14, 2007.
When the Stardust opened on July 2, 1958, it was the world's largest
Hotel-Casino with 1,032 rooms. I stayed in the motel rooms out back as they
were cheaper than the Tower rooms. The hotel had an eighteen story
sign erected in 1968(designed by Betty Willis) that you couldn't miss at night.
The Stardust attracted people with cheap rooms and cheaper food and drinks.
Of course the fabulous showgirls of the Lido de Paris Revue brought in customers
also. The Lido show was considered risqué at the time. Nude shows were
in Vegas, but you had to go away from The Strip to see all-nude gals.
The Stardust was involved with the Mob when purchased in August-1974
by Allen R. Glick of Argent Corp with a $62 million loan which
led to skimming & forwarding the money back to the Mob.
Argent Corp also owned the Hacienda, the Fremont, & the Marina.

Note that the great Welcome to Las Vegas sign was also designed by
Betty Jane Willis Whitehead b 5-30-1923 Overton, NV & d 4-19-2015
at age 91. In addition, Betty designed several other Vegas signs.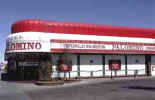 The Palomino Strip Club opened in 1969 by Paul Perry in North
Las Vegas with gals performing 100% nude. It was purchased
in 2003 by Luis Hildalgo Jr. In 2006 the club was purchased
for legal fees due Dominic Gentile, who was Hildalgo's lawyer.
Ownership in 2007 went to Adam Gentile, son of Dominic.
MEMO: On June 23, 2009, Hildalgo Jr. and his son Luis III were
sentenced to life in prison for murder of a former Palomino doorman.
The Club still operates on 5 acres at 1848 N. Las Vegas Blvd and now
offers the "Palomino Stallions" for the ladies and also a private
"Lipstick Lounge" upstairs, whatever that may be!
www.palominolv.com
The LITTLE DARLINGS Strip Club, located at 1514 Western Ave 89102,
stayed open during the March-2020 Virus emergency! Sho Nuff for $100 you
could watch from your car and view a 10 minute show at the drive-thru!
Strippers are a fabric of American Life. It's VEGAS Baby.

I've stayed at most of the major hotels at one time or another, and on my
last three trips, I stayed at Bellagio, Caesars Palace, and Rio. All nice joints,
however Bellagio has the friendliest and most available staff. You cannot
hesitate anywhere inside the property for a minute without some friendly,
bright, and energetic person jumping up to help you with whatever you might
need. The maid came to my room three times a day! All this service is not
without a price, but if money is not the issue, Bellagio is great. Bellagio is
located at 3600 Las Vegas Blvd formerly the location of the old Dunes.
There is a great ceiling installed by Dale Chihuly in 1998 titled 'Fiori di Como'.
It weighed 40,000 lbs and is worth seeing.
I previously hadn't stayed at the Rio as it is located off The Strip and I assumed
that it probably was not as nice as the majors on Las Vegas Blvd Strip. I was
pleasantly surprised! In 2007, the good people at Harrah's were holding an
Invitational Craps Tournament at Rio and I was invited along with 350 other
dice nuts to partake in their generous hospitality. Rio is considered an all-suite
hotel and I was more than satisfied with my suite. The going rate is $315 per
night during mid-week. It was spacious and more than adequate for the 4 day
3 night stay. You know it's a nice place cuz the Bad Boys of Magic,
Penn & Teller have a theater there.
On May 25, 2014. Rio added the "Voodoo Zip Line" and you can zip from one
tower to another at 33 mph hanging from a cable and riding on a small seat!
It's not for the faint of heart at 490 feet above ground!
The craps personnel were very well organized and the tournament ran smoothly
each day. The only draw back to my entire stay was that I didn't win the
$20,000 tourney. In fact, I busted out the first day when I tried to make a run
on the don't side of the crap table while everyone else was loading up on the
come side. I met a few of the crap tourney participants and many of the
players did not have extensive tournament experience, but had experience
playing craps against the house. Somewhere within a dice tourney, you must
make a stand away from the popular bets if you're trying to win. I talked to
two 30ish ladies that were in the tournament and while I jawed with one,
I noticed that the other young lady was reviewing the sports book odds for
the days' games! It seems she started betting sports events in her early
twenties and now considers herself a seasoned semi-pro. So maybe some of
the youngsters are coming around to the craps table before the slots take over
the entire casino. Being I bombed out early, I hit the restaurants using up the
food vouchers supplied by the Rio folks. Since I was in Vegas by myself, I
invited a couple 1st timers from France to join me for dinner just to have
company. Neither of these "kids" were gamblers, they just wanted to see
the sights of Sin City and see first hand what the hoopla is all about.
Also, I met a few of the locals while riding the Rio shuttle back and forth
to the Flamingo on the main strip. One couple, originally from Michigan,
came out on vacation and were impressed with the Las Vegas area climate
and open spaces. They went home, packed up and have lived happily just
outside of town for the last 30 years. To avoid the traffic on The Strip,
they park at the Rio and then take the free shuttle to Las Vegas Blvd. Most
casinos offer large discounts on food and entertainment to Las Vegas residents
with a proper ID. These friendly people told me they eat out three times
a week and spend less than $10 a night!

I always stop at the Flamingo at 3555 Las Vegas Blvd, as it has ties to the old
days even though the current joint was built in the 1990's. Gone is Bugsy Siegel's
original Pink Flamingo that opened on December 26, 1946. The original was named
after Bugsy's girl friend Onie Virginia Hill whose nickname was
Flamingo because of her long legs. Onie claimed she was the Fellatio Gold
Medal holder in Vegas. Alas, the last of the original buildings were torn down on
December 14, 1993. When the joint was called the Flamingo Hilton, they erected
a monument to Bugsy located outside in the garden area just past the
real Flamingos, past the waterfall, and near the Mermaid.
It's quite an elaborate monument that would make Bugsy proud.
I like the pink facade at night, Margaritaville, the live parrots on the sidewalk,
the feel of the old days, and I like Kenny in the crap pit. While they have spruced
up the place a bit, it's not as uppity as the other newer class joints.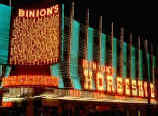 I also take time to revisit the downtown area and to stop at Lester Ben Binion's
(b 11-20-1904 Pilot Grove, TX d 12-25-1989 Las Vegas, NV) place that had Grand
Opening on August 14, 1951 as the Horseshoe Club. The opening was well attended
and the ribbon cutting was performed by Mayor C.D. Baker. Nick The Greek
was in attendance also. Previously, it was named the Eldorado Club with The Apache
Hotel upstairs. Benny & son Jack paid $160,000. Benny was denied a Casino license
due his notoriety. No problem, Benny named Dr. Monte Bernstein as as the Horseshoe
Chairman. Benny reapplied and his license was issued on 12-1-1951. The License
commission was chaired by Governor Charles H. Russell. In later years,
Benny said the State Commission was on the take. Benny Binion was old school
rough and tumble, but he took all the action you could dish out.
The Horseshoe was the Craps center of the World! He was originally a moonshiner
a numbers guy, shot two people to death, and served time for tax evasion in
Leavenworth, KS as Inmate #70732, but most people loved him.
Benny went to El Paso, TX in the early 1920's for one year and then went to
Dallas, TX. Daughter Barbara Shirley was born October 23, 1934 in Dallas and died
June 5, 1983 in Las Vegas. Son Jack Benny was born 2-21-1937 in Dallas. Daughter
Brenda Sharon was born in 1941 in Dallas. Daughter Becky was born in
1944 in Dallas. Son Lonnie Ted was born 11-28-1943 in Dallas and died 9-17-1998 in
Las Vegas. In 1964 the Binions owned 100% and renamed it Binion's Horseshoe.
A million dollars inside a plexiglass horseshoe, just inches away from your
outstretched hand! The World Series of Poker that is so popular these days was
started at Binion's in 1970. Johnny Moss (b 5-14-1907 d 12-16-1995) won the first
tournament by popular vote without even playing as the main pros all agreed that
Johnny was the BEST of the BEST. The 1st World Series of Poker was hosted by
Chill Wills (b 7-18-1902 d 12-15-1978) & Titanic Thompson (Alvin C Thomas
b 11-30-1893 in AR d 5-19-1974 in TX).
Johnny Moss figures in one of the celebrated poker stories at Binion's. The story goes
that Moss played Nikos Andreas "Nick the Greek" Dandolos (b 4-27-1883 d 12-25-1966)
for 5 months in 1949 and Nick ended the match by saying, "Mr. Moss, I have to
let you go", after Nick lost some 2 to 4 million dollars! This story is suspect as
no real documentation exists and Benny Binion wasn't legally open until 1951.
However the story persists. Nick died broke in Gardena, CA on Christmas day 1966.
I remember contributing to a burial fund for Nick, and he is buried in
Woodlawn Cemetery in Las Vegas.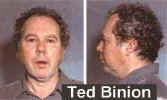 The old Mint next door to the Horseshoe was sold to Binion's in 1988 for $27,000,000.
The Binion stories through the years are stuff of legend and the drama carried over
to Benny's son Lonnie Ted Binion (b 11-28-1943 Dallas d 9-17-1998 Las Vegas) after
Benny's death in 1989. Ted was found dead under suspicious circumstances on
September 17, 1998 at the age of 55. After walking around the Casino on a recent visit,
I went down stairs and ordered cherry pie a-la-mode at Binion's original coffee shop just
as I did for the first time, some 45 years earlier. I half expected to see Benny sitting at
his table where I sat with him years ago. While the name Binion is on the joint, Benny
and the Binion family are long gone as the last Binion portion was sold in 2004.
The one million dollars in the Horseshoe was displayed from 1966 and into 1999 and
then the 100 1934 $10,000 federal reserve notes were sold in December-1999 to
Jasper Jay Parrino, a Kansas City, MO coin and currency collector.
While Benny is gone, he's not forgotten and a magnificent bronze with Benny astride
his horse. Deborah L. Copenhaver is the sculptor of this statue titled, "Tribute to a Cowboy"
placed at Billy Bob Burnett's Honky-tonk in Fort Worth, TX. Benny was a mentor to Billy.
It was unveiled in a 1985 ceremony attended by Steve Wynn & Paul Anka. The Judds
performed a concert on the Honky-tonk stage. Billy Bob Burnett went broke and
closed on January 1, 1988 and the 3,000 lb statue was hauled off during the
night to 2nd & Ogden near the Horseshoe in Vegas.
Benny was named a Pro Rodeo Hall of Fame Notable in 1988 and
in 2014 was named a Legend of Pro Rodeo Hall of Fame.
Update on the statue as it was moved during 2008 to the
South Point Casino and sits just outside the entrance to the
Equestrian Center at 9777 Las Vegas BLVD-South.
Benny lived for a bit out in Henderson and it is my understanding
that the statue was purchased by Michael Gaughan for $1.
Michael Gaughan was named a Pro Rodeo Hall of Fame Notable in 2007
and in 2017 was named a Legend of Pro Rodeo Hall of Fame.
Benny's family held an 83rd birthday party at The U of Nevada Thomas Mack Center.
Free admission & free beer brought out 18,000 people. In attendance were many
celebrities including a performance by Willie Nelson and also by Hank Williams Jr.
Gene Autry and Dale Robertson attended.
Benny's son Jack Benny Binion (b Feb. 21, 1937) still carries on as he owns
the Rights to the "Horseshoe" name. He still makes appearances at the Horseshoe
named joints and in 2017 consulted for Wynn International.
It's still old school downtown and the limits are lower than the Strip, however
the street is cleaned up and now the action extends a couple more blocks
as speculators continue to open more hotels and joints.
I talked to a policeman riding a bicycle up and down Fremont Street and he
reported that the crime is not as it used to be. His major problem is breaking
up fights with the late night drunks. I did observe numerous down and out
homeless types frequenting the area and occasionally observed them seeking
handouts from the tourists. In earlier years, I ventured downtown to go to
Binion's because of it's storied past and Benny Binion's reputation. However,
I always felt uneasy on the streets there. Today however it appears just as
safe as the Strip. According to generalized newspaper reports, the Vegas
area has its crime problems, however The Strip and now Fremont Street has
beefed up patrols so as not to chase away the millions that show up annually.
That's not to say that the Vegas area is without crime. As in any big city, it's not
smart to venture too far off the beaten path. Speaking of crime, the Vegas
police have reported an influx in the three years 2005-2006-2007 of an overseas gang.
These foreigners were quoted as saying that Vegas was ripe for the picking.
If you are in the downtown area, you're not far from the Gold & Silver Pawn
Shop at 713 Las Vegas BLVD that opened in 1988. Previously it was located
about a mile up the street when opened by Richard Benjamin Harrison
in 1981 in a store at 1501 Las Vegas BLVD. Richard had just finished up with
the US Navy after 20 years prior to opening this small Pawn Shop. You may
have seen Richard in his Reality TV Show that started in 2009.
Richard was born March 4, 1941 and died June 25, 2018.
The TV Show included Richard, his Son Rick, his Grandson Cory, and
Chumlee, a hired hand. After visiting the joint in 2013, I must
say that Chumlee, as a High School Dropout, is the brightest of the group!
I take it back. Chumlee (Austin Russell) is just as dumb as the rest.
Chumlee, age 33, was arrested March 9, 2016 on sex, weapons, and drug charges
as the result of a search warrant. Meth, weed, and a gun at his house in Vegas.
There's always a new twist as old schemes, ways, and methods are updated to
modern times. That brings to mind one of the most enterprising & determined
Vegas Cheats of all time according to my book. That would be Dennis Andrew
Nikrasch, AKA Dennis Sean McAndrew. Dennis, born September 12, 1941 in
Chicago gets the self-taught achievement award for updating his basic skill of
cheating casinos by manipulating slot machine payouts. Dennis had an
uncanny ability to pick locks and it is believed that he worked
in Chicago for the crime families.
He was convicted in Chicago for burglary in 1961 before moving to Vegas
in 1970. In Vegas, Dennis rigged the mechanical slots during the 1970's and no
one really knows how many millions he hauled off. It was estimated that he
racked up $10 million between 1976 & 1979. Dennis, his wife Susan, and his
brother Terrence were indicted in 1983. Brother Terrence got 15 years in 1984
while Dennis & Susan went on the lam. Both resurfaced in Las Vegas
and surrendered to authorities in January of 1986. Dennis got 15 years in prison
however he was paroled in January-1991 after serving only 5 years and he
remained on parole until May-1996. Susan received a 1 year term. Well, it
seems that you can't keep a great mind down as Dennis was planning & plotting
his next move while doing time. Of course technology had moved past Dennis
from mechanical slots to the electronic computer age, but not to worry.
Dennis set up shop in his Vegas garage with a newly purchased electronic
slot machine and proceeded to take it apart piece by piece and put it back
together again. In addition, he educated himself about computers and the
"chips" that make it work. He was now re-schooled, re-tooled, and ready
for action. An accomplice from the Bruno crime family in Philadelphia by the
name of Eugene A. Bulgarino, AKA Louie Turco, AKA Gigi, born June 4, 1933 in
Philly, purchased a computer chip from IGT as requested by Dennis. Bulgarino
died April 16, 2014 in Peoria, AZ. Dennis was able to decipher the info from
the practice slot machine and obtain the necessary combinations so as to load
up the slot with the jackpot sequence. Sometime in 1996, Dennis, his associates,
and his hired hands were ready for the real slot machines and they hit the Vegas casinos.





According to info obtained after the fact, the cheating went as follows:
The associates would scope out a machine that had minimum security camera surveillance; confederates would play the machine regular to keep real customers from tying up the machine; after a period of time, Dennis would join the group and while they shielded Dennis from camera view, Dennis would open the machine, access the chip to obtain the necessary coding, and rig the chip to come up with a jackpot; the entourage would then leave the casino and their selected accomplice WINNER would then magically hit the JACKPOT on the next spin! Authorities do not know exactly how many jackpots, cars, and prizes that the group won, as no trail existed within the slots computer!


Here's a list of five known rigged winners:
Sep-1996 $200,500 at Excalibur won by James BULGARINO (son of Eugene)
May 24, 1997 $30,000 at Rio won by Louise Melendez
July 4, 1997 $3,700,000 at Harrahs won by Linda Lee Gillam (daughter of Eugene)
Oct 18, 1997 at Luxor Jaguar auto won by Ronica Tweedi
Nov-1997 at Luxor $1,700,000 won by Debra Capozzi BULGARINO (daughter of Eugene)
After their arrest on June 9, 1998 authorities found computer chips and burglary tools when they searched a safe deposit box and a storage shed used by Dennis Nikrasch. Eugene Bulgarino got 3 years 10 months; wife Joan Mae Bulgarino got 4 months jail and 4 months house arrest; Ronnie Gale McElveen got 2 years and 9 months and the mastermind Dennis Nikrasch , just two years after being released from parole for the last slot scam, was sentenced to 7 1/2 years. Nikrasch & Bulgarino were both added to the Vegas Black Book of Banned from the Casinos on September 24, 2004. Dennis died in 2010, no details are available.
Yea, some things change and other things don't change in Vegas, but it's
always been an exciting place. On September 9, 2007, the MTV people
were holding their Video Awards Big Bash at The Palms and you
couldn't get near the nightclub area unless you had bodyguards
and an entourage of 50 or so. I stayed on the sidelines to see
what I could see. You may have read about Kid Rock getting into
a scuffle with Tommy Lee and the police showed up around 10 P.M.
Fun in Vegas, you can't beat it! I left The Palms and stood on the corner
of Hugh Hefner Blvd for a few minutes deciding on the next joint to visit
and I was summoned to a vehicle at the curb. A young gal
asked if I needed a lift or if I was looking to party for the night.
Some things don't change in Vegas as I don't ever recall a night on the
street when I haven't been approached to participate in the sex trade
business. Mobile billboards are a common sight promoting "Babes-Just
for You." Most street corners have posters and advertising boxes listing
available girls. In addition, individuals are stationed at the busy
intersections on The Strip handing out "Trading Cards" advertising for
Demi, Stacy, or Stephanie who can be at your room and ready in only
20 minutes! Giovanna even offered a FREE INTRODUCTION and a $35 SPECIAL!

In 2007, the then Mayor of Las Vegas, Oscar Goodman, weighed in on the
prostitution business stating that Vegas ought to open up brothels. Oscar
was interviewed by Bob Herbert of the New York Times and was liberally
quoted in a September 4, 2007 article. Mr. Herbert stated, "There is no
city in America where women are treated worse than in Las Vegas."
Herbert continued, "The tone of systematic, institutionalized degradation
is set by the Mayor, Oscar Goodman who describes Vegas as an adult
playground where anything goes."
For the few of you that haven't heard of Vegas Mayor Oscar Baylin Goodman,
born June 26, 1939 in Philly, Oscar has been in Vegas since 1964 and Mayor
from 1999 to July 6, 2011. Mayor Goodman has a J.D. degree from the
U of Pennsylvania Law School and he was admitted to the Nevada Bar
Association in 1965. He had a storied career as a defense attorney and
defended well known crime figures. Maybe you will recognize clients,
such as Meyer Lansky, Nicky Scarfo, Anthony "Tony the Ant" Spilotro, and
ex-Stardust Casino boss Frank "Lefty" Rosenthal. Oscar appeared in the
1995 movie "Casino" playing himself. Joe Pesci appeared in the movie as
the violent enforcer portraying Spilotro, while Robert DeNiro
(Sam Rothstein in the movie) represented Lefty Rosenthal. Oscar's third
term as mayor expired in 2011. Not to worry about Oscar being out
of a job though, as he receives $72,000 annually from the
Las Vegas Convention & Visitors Authority as a Vegas Ambassador.
(The 22nd Mayor of Las Vegas was elected on 7-6-2011 - Carolyn Goodman!
Yep, that be Oscar's Wife.)
The outspoken Mayor was always good for a quote as when he addressed
a Vegas 4th grade class in 2005, he stated that a showgirl and a bottle of
gin would be his choice if marooned on an island. When asked about his
hobbies, he responded that he enjoyed drinking Bombay Sapphire Gin.
In 2005, Oscar suggested that any freeway graffiti punks caught should have
their thumbs cut off on live television. Public whippings and canings were
also suggested for offenders. The mayor also was a photographer for a
topless shoot with the photos used for a porno web site. Numerous follow-ups
have appeared in newspapers concerning the prostitution articles.
Goodman said he felt defamed by the columnists and Goodman said he would
take a baseball bat and break Bob Herbert's head if he ever comes back to
Vegas. Bob Herbert responded on September 11, 2007 that he must have
hit a nerve when labeling Vegas as a predator and talking about Mayor
Goodman. Vegas columnist, Jon Ralston sided with Herbert that Goodman
does not understand the horrible toll that legal or illegal prostitution takes
on women. Former Mayor Jan Jones stated that Goodman makes the city
of Las Vegas look like idiots and that Goodman demeans women. A host of
everyday people have sent letters to the editor, some praising the Mayor and
others scolding the Throwback from the early mob days. It's interesting to
note that most people believe that prostitution is already legal in Vegas.
My bet is that legal prostitution is not likely to happen soon. Instead, hundreds
of illegal hookers will be plying their trade up and down the Strip area and
the Vegas Police will continue to bust the Johns and the Prostitutes.
There are about 20 brothels in Nevada, but NONE are in Vegas or Clark County.
As I mentioned, Mayor Oscar Goodman was the mouthpiece for ex-Stardust Casino boss Lefty Rosenthal as Lefty was suspected of secretly overseeing the Stardust, Fremont, and Hacienda casinos on behalf of organized crime. Frank Larry Rosenthal, born June 12, 1929 in Chicago, is another colorful character from the Vegas scene. Also known as Norman, Larry, Lefty, Larry Franks, Frank Larry, Frank Carpentier, Charles Carpentier, and Frank Gossup; Mr. Rosenthal originally became noticed in Chicago because of his ability to pick winning horses. He went on to become widely known for setting the odds for sporting events. While at the Stardust, Lefty set up and operated a Sports Book along with hiring the first female dealers in the casino which made the Stardust one of the leaders in the industry. If you made a bet anywhere in the country, the line was probably set by Lefty Rosenthal. As depicted in the movie Casino, Lefty survived an October 4, 1982 car bombing attempt on his life while sitting in his '81 Cadillac Eldorado outside of Tony Roma's restaurant on E. Sahara Ave. The hit was thought to have been ordered by the Kansas City mob boss Nickolas Civella. The Stardust was purchased by Allen R. Glick with a $62 million loan from the Teamsters Union. Alas, in 1991 the Nevada Supreme Court upheld Rosenthal's November 30, 1988 listing in the Black Book that bans him from casinos. During one of his court hearings, he pleaded the Fifth Amendment nearly 40 times, even "taking the 5th" when asked whether or not he was left-handed! After being barred and his casino days over, Lefty moved to California, and then on to Florida. Lefty, a pioneer of modern gambling and a renowned handicapper continued to handicap sports events out of Miami Beach, Florida until his death on October 13, 2008.
So as not to slight the women folk, I'll mention that one woman made the Black Book which subsequently bans her from casinos. Sandra Kay Vaccaro was listed in the Black Book on October 2, 1986. Sandra, AKA Sandra Day Fumagalli, AKA Sandra Day Wondra, was born December 13, 1939 in Granite City, IL and worked with her then husband John Joseph Vaccaro Jr., AKA Alan Joseph Champagne, to cheat the slots during the early 1980's. John also made the Black Book on June 20, 1986 four months earlier than his wife. John Vaccaro served time in 2008 in Louisiana after trying to cheat the casinos again down south. John was born March 28, 1942 and died November 16, 2015 in Boulder City, NV. In 2016 Sandra resides in Boulder City, NV.
A third person was convicted with the Vaccaro's in 1985 by the name of William Klahr Cushing born April 25, 1952 in Oil City, PA; and also did several years time. Cushing resurfaced in September-2007 when he was caught cheating again in Vegas and subsequently was added to the Black Book on September 18, 2008.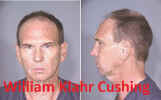 In addition to spending time at the dice tables, I enjoy finding other things to do in Vegas. In February-2008, I traveled to the Liberace Museum at 1775 East Tropicana Avenue to pick up a newly released Liberace Style pair of shoes. The Museum was quite the place with glitter, clothes, pianos, autos, costumes, rings, jewelry, and a snack bar. Two extremely friendly ladies, Connie & Sandra took time to show me around and pick out a "New Pair of Shoes'. In addition to all the Liberace stuff, the museum houses a theatre and regularly holds Liberace Tribute performances.
Well. you missed it folks. The Liberace Museum closed on Oct 17, 2010.
450,000 people visited annually in the earlier years. Wladziu Valentino
Liberace died of AIDS in 1987 and his fans are slowly dieing off too as
attendance was less than 50,000 last year. Liberace was Mr Bling
and the Lady Gaga of his day.
Liberace (b 5-16-1919 West Allis, WI d 2-4-1987 Palm Springs, CA) was scorned by
the piano Purists because of his embellishments and flourishes on the works of
the great composers. However, he was loved by many as he represented
drama and richness. His TV show was watched by millions from 1952 to 1955.
One fur coat he wore had a train that was 16 feet long.
I continued down East Tropicana stopping next at 2900 at "The Gun Store." They have everything you might need, such as an Uzi, MP5, MP40, M16, AK47, or a Thompson. You can try one out right there 7 days a week 'til 6:30 P.M. If you can't afford to buy one right now, well sho' enough they have a RENTAL program. It's Vegas baby.
Continuing East, the next stop was at 3330 Tropicana to visit the Pinball Hall of Fame. About 200 machines of the owner's 1,000 machines are available to play at this location. Approximately 30 people were playing the favorite machines of their youth when I arrived. None of these people were kids as their ages were 35 and up and about half were women. Tim Arnold, the owner was not available, however Mike Clark known as "Hippie", the main repairman was busy polishing up a machine. Hippie explained that it was a full time job cleaning and replacing gates, bumpers, and supplying parts to keep the machines playable. I spent two hours feeding quarters to the pinball machines. The Hall of Fame operates as a tribute to the Pinball era, and any profit is donated to charitable causes in Las Vegas. A great afternoon spent on East Tropicana in Las Vegas.
On November 3, 2009, the "NEW" Pinball Hall of Fame opened at 1610 E. Tropicana Ave and is now twice the size of the original.
OK folks, that's all for now and I hope to see you in Vegas sometime.
Look for me at the Dice Table.
Copyright © 1998-2021 MojoRat LLC. All rights reserved.