Superman Festival
This small Illinois town on the Ohio River bordering Kentucky comes alive on the 2nd
weekend of June each year to host a Superman Celebration. This four day family festival
offers something for each family member. Children will enjoy Super Silly Games,
Youth basketball, Costume contests, an Ice Cream Social, a Super Dog Show, musical
events, and the appearance of Superman and Superhero's.
Adults will enjoy National Musical Acts, Weightlifting competition, Pro Wrestling, a Tennis
Tournament, a Walk/run race, a Bicycle ride, Car Cruise, Garden Show, Flea Market, and
a Street Carnival. Fort Massac State Park is the site of a large Classic Car Show
and offers camping with modern facilities.
What HOMICIDAL MANIAC is buried in the Metropolis Masonic Cemetery?
click here to find out
Celebrities are usually available and in addition to Superman, you may have seen Julie Newmar,
that "Puurrfect" Catwoman, Adam West-The Original Batman, Margot Kidder as Lois Lane,
Lou Ferrigno-The Hulk, Jackson Bostwick-Captain Marvel, and Marc McClure as Jimmy Olsen.
Noel Neill appeared almost every year until her death in 2016. Noel Darleen Neill was the
very first Lois Lane and also played Lois Lane in the TV series of Superman from 1953-1957
with George Reeves as Superman. During the 2000 Celebration, Noel was available in the
lobby of Community National Bank. Noel was born 11-25-1920 in Minneapolis, MN.
Noel died at home in Tucson, AZ on July 3, 1916.
A Lois Lane Statue was unveiled on Friday June 11, 2010. The statue is a six
foot tall bronze patterned after Noel Neill. The statue was created by
Gary Ernest Smith of Highland, Utah and is located at 8th & Market Streets. Mr. Smith is
also the creator of the 15 ft tall 4,500 lb bronze statue of Superman completed in 1993.
Children and adults will enjoy the Super Museum. Owner Jim Hambrick has the largest
collection of Superman items in the world. Jim has about 750,000 items with 100,000
items displayed within his 15,000 sq ft museum . The museum is located near Superman
Square and the Large Superman Statue. The museum website is www.supermancollectors.com.
Jackson Bostwick-Captain Marvel holds an M.F.A. in acting from The U of Southern
California-1973, and has appeared in numerous films, TV shows, and stage productions.
Jackson is more widely known for his Saturday morning TV show Shazam and his portrayal
of Captain Marvel. This CBS show ran from 1974 through 1980.
In 1940, Captain Marvel took his place among the comic book Superheros when
Billy Batson uttered "Shazam" for the first time. Tom Tyler was the first Captain Marvel
in 1941, however Jackson Bostwick is more well known for his portrayal.
What Green brutish menace is 7 feet tall and weighs 1,040 lbs and has limitless
strength? Well, you probably already know that it's Robert Bruce Banner when he
gets angry. Robert was a nuclear physicist from Dayton, OH and was exposed to radiation
from a Gamma-Bomb. When angered, Mr. Banner morphed into the Incredible Hulk.
The calm Mr. Banner was played on TV by Bill Bixby(b 1-22-1934 d 11-21-1993) and
the riled Banner was played by Lou Ferrigno(b 11-9-1951).
Lou played the Incredible Hulk in the TV series from 1978 to 1982.
Ferrigno was the youngest man to win the Mr. Universe competition at the age of 21
and the only person to win the competition twice in a row. Lou has appeared in many
movies and in 2004 plays himself in the TV series King of Queens.
Margot Kidder was a frequent Celebrity to visit during the Festival.
Margot Ruth Kidder was born 10-17-1948 in Canada and died
by suicide on May 13, 2018 at home in Montana. She was a
proponent for mental health causes for many years.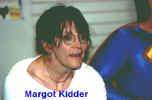 Adam West was a frequent celebrity in Metropolis. Born William West Anderson on 9-19-1928
in Walla Walla, WA & died on 6-9-2017 in Los Angeles, CA. Adam was The Original Batman.


Some Pictures from 2004
Here's a few pictures from Superman Days in 2000 & 2002.
Back to "Events-Superman Days" page