The Day the Music Died
February 3, 1959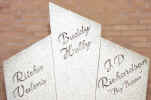 Buddy Holly - born Sep 7, 1936 - Lubbock, Tx
Charles Hardin Holley (later changed to Holly)
1986 Rock and Roll Hall of Fame
1997 Grammy Lifetime Music Award
1999 Grammy Song Award - Peggy Sue (Coral 1957)
1998 Crickets-That'll Be The Day (Brunswick 1957)
Ritchie Valens - born May 13, 1941 - Pacoima, CA
Richard Steven Valenzuela
2000 Grammy Song Award - La Bamba (Del-Fi 1958)
2001 Rock and Roll Hall of Fame
The Big Bopper - born Oct 24, 1930 - Sabine Pass, TX
Jiles Perry Richardson
The 1959 Winter Dance Party Tour($1.50 Ticket) also included Dion Francis DeMucci
(b 7-18-1939 the Bronx, NY) & The Belmonts, Frankie Marco Sardo (b 9-16-1939 Sicily
Italy d 2-26-2014 Somer, NY), Waylon Arnold Jennings (b 6-15-1937 Littlefield, TX
d 2-13-2002 Chandler, AZ), Carl Bunch (b 11-24-1939 Big Spring, TX d 3-26-2011
Lancaster, CA), and Tommy Douglas Allsup (b 11-24-1931 Owasso, OK d 1-11-2017
Springfield, MO). The February cold weather and trouble with the heat on the tour bus led
Holly to charter a small four passenger plane from Dwyer's Flying Service out of Mason City,
Iowa. Holly age 22, Valens age 17, and Richardson age 28, died early on the morning of
Feb. 3, 1959 when the plane crashed upon takeoff into a snowy Iowa cornfield.
Also killed in the crash was the Iowa Pilot, Roger Arthur Petersen (b 5-24-1937 Alta, IA) age 21.
The story is that Waylon Jennings was scheduled to be on the plane, but Waylon gave up his
seat to The Big Bopper. According to Dion, Dion won a coin flip with Tommy Allsup;
but the $36 plane fare was too expensive for Dion, so Richie Valens ended up on the
4 seat plane, a 1947 Beechcraft Model 35 Bonanza N3794N 3-seater plus pilot.

The crash site is near 22728 Gull Avenue & the intersection of 315th street in Clear Lake,
Iowa 50428. A large pair of steel glasses were erected on a monument here by
Michael Connor of Clear Lake, IA. About one-half mile west of the glasses is the actual
crash site on private land owned in 1959 by Albert Juhl. A stainless steel monument
was erected in 1988 by Ken Paquette, a welder from Portersfield, WI, at the actual crash site
listing the musicians. On February 2, 2009 Paquette unveiled a memorial for the pilot.

Replacements on Feb 5, 1959 were Bobby Vee (Robert Thomas Velline b 4-30-1943 Fargo, ND
d 10-24-2016 Rogers, MN), Jimmy Clanton (b 9-2-1938 Baton Rouge, LA), Ronnie Smith
(Robert Ronald Smith b 12-12-1940 Odessa, TX d 10-25-1962 Rusk, TX), Fabian (Fabiano
Anthony Forte b 2-6-1943 Philadelphia, PA), and Frankie Avalon (Francis Thomas Avallone)
b 9-18-1940 Philadelphia, PA) filled in to complete the rest of the tour which
ended Feb 15, 1959 in Springfield, IL.
The 1st Commemorative show was held on February 3, 1979.
This Commemorative Show at the Surf is generally a sell-out, so plan ahead if you're
going to attend. The Surf Ballroom was built in 1933, destroyed by fire in 1947, and
reopened across the street to the present site in 1948. It's one of the last of the BIG
Ballrooms still in use, holding 2,100 people with a 6,300 sq ft dance floor. The Winter
Dance Party in this small Iowa town is a great party celebrating good old Rock-n-Roll
from the early days and you won't be disappointed if you attend.
Featured artists in the past have been: The Drifters, Eric Burdon, Gary Busey,
Del Shannon, Rick Nelson, Carl Perkins, Bobby Vee, Gary Lewis, The Crickets,
Dale Hawkins, Freddy Cannon, Little Anthony, Johnny Tillotson, DJ Fontana,
Don McLean, Bo Diddley, Frankie Ford, Tommy Allsup, Cleftones, The Shirelles,
Wolfman Jack, Link Wray, Sam the Sham, Everly Brothers, Jan & Dean, Beachboys,
Santana, REO Speedwagon, Kansas and Paul Burlison. Also appearing have been
Maria Elena Santiago Holly b 12-20-1932 SanJuan, PR (Buddy's widow),
the original Donna b 4-10-1942 (Donna Ludwig/Fox/Coots),
and the original Peggy Sue (Peggy Sue Gerron-Rackham), made popular in song.
Peggy Sue b 6-15-1940 lived in Lubbock, TX until her death on 10-1-2018.
Peggy remained active in honoring Buddy Holly through the years
and published a book about her memoirs concerning Buddy in 2008.
A special event Ham Radio Station, W5B, operated in February 2004, February 2005,
& February 2006 from Lubbock. Peggy Sue was K5PSG (ex KE5AKW) and was involved
in the operation of this commemorative ham radio station. It is likely that the
station will continue to operate each year during February.




The phrase "The Day the Music Died" was coined by Donald McLean b 10-2-1945
New Rochelle, NY in his song "American Pie" recorded on May 26, 1971-United Artisits.
American Pie won a Grammy Song Award in 2002.
It was a lengthy tune at 8.5 minutes and became a #1 hit.
The popular International stage musical, "Buddy: The Buddy Holly Story",
was performed once as a special event during the 1990's at the Surf.
Copyright © 1998-2021 MojoRat LLC. All rights reserved.
page added March 19, 2005