Sylvain Mizrahi
b February 14, 1951 Cairo, Egypt
The New York Dolls

Sylvain replaced Rick Rivets in the 1971 original New York Dolls which included guitarist-Johnny Thunders, drummer-Billy Murcia, bassist-Arthur Kane Jr., and singer-David Johansen.

The original Dolls first performance was at the Homeless Shelter of the Endicott Hotel in New York on December 24,1971. After a whirlwind rise in popularity, the Dolls headed to London in October of 1972 to open on a bill for Rod Stewart. While in London, drummer Billy Murcia died on November 6, 1972 and the Dolls returned to the States the following day.
Auditions were held for a new drummer and Jerry Nolan joined the Dolls.

The July 27, 1973 debut album on the Mercury label was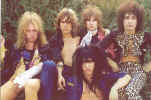 produced by Todd Rundgren (b 6-22-1948) and was aptly titled, "New York Dolls". Their 2nd album released in July 1974 and also on Mercury, was titled, "Too Much Too Soon" and was produced by George F "Shadow" Morton (b 9-3-1942 d 2-14-2013).
Mercury decided to drop the Dolls in

November 1974 due to trouble with the Dolls' notoriety. During this period, the Dolls couldn't get along and in 1975, Johnny Thunders and

Jerry Nolan left in the middle of a Florida tour and returned to New York to form the Heartbreakers with Walter Lure and Richard Hell (AKA Richard Meyers b 10-2-1949 Lexington, KY).
Sylvain and Johansen kept playing and covered many of the Dolls' tunes with several other musicians, however they parted ways in 1977 which ended The New York Dolls.

On June 26, 2000, Sylvain released some New York Dolls' music recorded during 1977 with Sylvain on guitar, Michael Page on bass, Bobby Blaine on piano, and Tony Machine on drums.

During 2004, Sylvain and Johansen reunited and reformed the New York Dolls with Steve Conte-guitar, Gary Powell-drums, Brian Koonin-keyboard, and Sami Yaffa-bass. Later in 2004, Brian Delaney replaced Powell on drums. On July 25, 2006 the New York Dolls released their album titled, "One Day It Will Please Us to Remember Even This", produced by Jack Douglas on Roadrunner Records.
The New York Dolls - Members
1971 Original
David Johansen-singer (AKA David Doll, AKA Buster Poindexter) b 1-9-1950 Staten Island, NY
Johnny Thunders-guitar (AKA Johnny Volume, AKA John Anthony Genzale Jr) b 7-15-1952 Queens, NY - d 4-23-1991 St Peter House Room #37 New Orleans
Rick Rivets-guitar (AKA George Fedorcik) b Bronx, NY
Arthur "Killer" Kane Jr-Bass b 2-3-1949 Bronx, NY - d 7-13-2004 Los Angeles
Billy Murcia-drums b 10-9-1951 Bogata, Columbia - d 11-6-1972 London, England
1971
Sylvain Sylvain b 2-14-1951 Cairo, Egypt *REPLACED Rivets
1972
Jerry Nolan-drums b 5-7-1946 Brooklyn, NY - d 1-14-1992 NY
*REPLACED Murcia
1973
Peter L Jordan-bass b 6-20-1951 fills in for Kane at times
1975
Blackie Lawless-guitar (AKA Steven Edward Duren, AKA Blackie Goozeman) b 9-4-1956 Staten Island, NY *REPLACED Thunders for 15 days in May 1975 in Florida
Tony Machine-drums
Chris Robison-keyboard
Johnny Thunders & Jerry Nolan left Florida and returned to New York to form the Heartbreakers
1977
David Johansen and Sylvain part ways and the Dolls are history
2004
A reunion was organized with Johansen, Sylvain, and Kane. Added new members were:
Steve Conte-guitar
Sami Yaffa-bass (AKA Sami Takamaki) b 9-4-1963 Finland
Brian Koonin-keyboard
Gary Powell-drums b 11-11-1969
Brian Delaney-drums *REPLACED Powell in 2004
Back to "Sylvain" on Musician Directory Page
Back to "New York Dolls" on Musician Directory Page