21st Sunflower Blues Fest
August 8-10, 2008
Clarksdale, MS
See any of these people and places?
The Early Wright Blues Heritage Award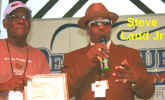 The award honors "The Soul Man" of WROX radio who became Mississippi's first
African American DJ in 1947. The Award has been presented each year since 1991 to
non-musicians judged to "preserve, promote, and perpetuate blues in the
Mississippi Delta". The 2008 winner was Steve Ladd for his years of service as MC for
the Sunflower Festival. Steve had emergency surgery in July-2008 and died on
July 20, 2008 in Memphis. The award was accepted on Steve's behalf by his son,
Steve Ladd, Jr. For history of the Award and prior winners click here.
Back to "Events-Sunflower Blues Festival" page