Steve Ladd Jr
AKA Bernie H. Smith Jr
b October 31, 1944 Denison, TX - d July 20, 2008 Memphis, TN

A Blues Guy indeed, and well liked by all who knew him. Steve frequented the Memphis area and down into Mississippi for most Blues events. MC for many events due to his excellent voice, stage persona, and knowledge of the blues acts. Since Steve's death, Steve Ladd Jr. has taken on the task of being MC for the annual Sunflower Festival during August in Clarksdale, Mississippi.
Here's a list of known stations and places that Steve worked with during the last 36 years.
KPFK-Los Angeles, CA; KVON-Henderson, NV; KFJL-Oklahoma City, OK; KRRV-Sherman, TX; KIKM-Sherman, TX; KKDA-Grand Prairie, TX; KNON-Dallas, TX; WROX-Clarksdale, MS; Ground Zero Blues Club-Clarksdale, MS; Memphis Souls Project-Memphis, TN; WDIA-Memphis, TN.
Back to "Steve Ladd" on Musician Directory Page
Steve Ladd Jr - Yung Steve - Dat Dude
AKA Bernie H. Smith III
2B Down Entertainment & Production
Back to "Steve Ladd Jr" on Musician Directory Page
Steve Waldeman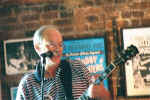 Back to "Steve Waldeman" on Musician Directory Page
Steve Anthony

Back to "Steve Anthony" on Musician Directory Page