Paducah Jazz Ensemble
Paducah, KY
Back to "Paducah Jazz" on Musician Directory Page
Patti Thomas
Back to "Patti Thomas" on Musician Directory Page
Paul J. Hermsen
b March 9, 1945
Back to "Paul Hermsen" on Musician Directory Page
Paul Oscher
b April 5, 1950 - Brooklyn, NY
Handy Blues Award Winner in 2006
Album of the Year & Acoustic Artist of the Year
First white musician to play in a touring Black Blues Band
when he toured with Muddy Waters at a young age.
If you see Paul ask him about 3 card Monte.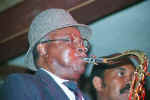 Back to "Paul Oscher" on Musician Directory Page
Paul Sumner
Back to "Paul Sumner" on Musician Directory Page
Percy Strother
b July 23, 1946 - Vicksburg, MS d May 29, 2005 - Minneapolis, MN
Percy grew up a product of the hard luck blues in Mississippi. Word has it that
his father was hanged in the early 1950's and his mother died during 1960.
Percy hit the road to avoid being placed in a home and he eventually found his
way to Minnesota. He became known for his fancy outfits and his baritone voice.
He toured the U. S. and also was welcomed in Europe. He recorded in 1992,
Highway is My Home in 1995, A Good Woman is Hard to Find
in 1996, and It's My Time in 1997.
Back to "Percy Strother" on Musician Directory Page
Prentice Minner
Back to "Prentice Minner" on Musician Directory Page
Willie "Pinetop" Perkins
b July 7, 1913 - Belzoni, MS d March 21, 2011 Austin, TX
Grammy Award 2010 & 2007 Best Traditional Blues Album
Grammy Lifetime Achievement Award - 2005
Handy Blues Award Winner in 2005, 2004, 2003, 2002, 2001,
2000, 1999, 1998, 1997, 1996, 1995, 1994, 1993, & 1992.
Working mainly throughout the Mississippi area Delta in joints and at house
parties since 1926 Willie played the guitar and later switched to the piano with
the help of Pinetop Smith. Willie was part of the King Biscuit Time radio
program with Sonny Boy Williamson in West Helena, AR. Toured with
Robert Nighthawk, worked with BB King, and Earl Hooker, and was recorded
by Sam Phillips at the Memphis Sun Studio in 1953. Played with Muddy Waters
from 1969 to 1980 after replacing Otis Spahn. In 1998 Willie recorded with
Hubert Sumlin blending their brand of delta blues along with modern
electric blues-rock. Moved to Austin, TX in 2003.
Back to "Pinetop Perkins" on Musician Directory Page
Back to "Willie Perkins" on Musician Directory Page