Mark Miller
Back to "Mark Miller" on Musician Directory Page
Matt Davis
Back to "Matt Davis" on Musician Directory Page
Matt Lauder
Back to "Matt Lauder" on Musician Directory Page
Walter Horn Jr. - Mississippi Slim
b Aug 13, 1943 Shelby, MS d Apr 14, 2010 Greenville, MS
Slim was a plantation tractor driver by day and a Nelson Street Bluesman by night.
Went to Chicago in 1974 and played all the Joints on the West Side
and returned to Greenville, MS in 1994.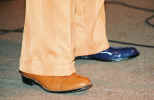 Back to "Mississippi Slim" on Musician Directory Page
Marin Mitchell Ivanoff
b February 27, 1952 Harrisburg, PA - d June 8, 2019 Harrisburg, PA
Mitch was 6' 8" and 400 lbs, and he was a lovable guy and a good guitarist
starting the Band-Tin Can Budda with Lee Carroll and Rodney Hatfield.
Mitch was also a member of KCBR-Krypton City Blues Revue.
Back to "Marin Mitchell Ivanoff" on Musician Directory Page
Mississippi Spoonman
Bob Rowell
b 1952 McCool, MS
Back to "Mississippi Spoonman" on Musician Directory Page
Mohair Slim
Blues DJ & Historian - Melbourne, Australia
PBS 106.7 www.PBSFM.org.au
Back to "Mohair Slim" on Musician Directory Page