Larry Griffin
Back to "Larry Griffin" on Musician Directory Page
Larry Penn
Cream City Slim
b 1927 - d October 7, 2014 Milwaukee, WI

Back to "Larry Penn" on Musician Directory Page
Leroy Jodie Pierson
b October 22, 1947 - St. Louis, MO
Musician, Record Producer, Writer, and foremost a Blues Dude.
Leroy's father was a musician and Leroy started on guitar around age 14.
After attending St. Louis schools, Leroy enrolled at Beloit University in
Wisconsin in the late 1960's. Now well immersed in the Blues, Leroy decided
to promote blues concerts which included many now famous artists such
as; Son House, BB King, JB Hutto, Furry Lewis, Roosevelt Sykes, Junior Wells,
and Fred McDowell. During 1967, Leroy performed on stage with Fred McDowell
of Como, MS and these two musicians became friends with Leroy visiting Fred
in Mississippi on numerous occasions. While in the South, Leroy also traveled
into Alabama to meet another bluesman named Johnny Shines. Johnny and
Leroy played guitar together and also became friends. Johnny Shines had a
tremendous amount of experience and a long history playing in Chicago
and throughout the South. In his younger years of the late 1930's,
Mr. Shines had played with the legendary Robert Johnson.
In 2015, Leroy Jodie Pierson continues to carry forward the early
Country Blues of Robert Johnson, Johnny Shines, Mississippi Fred McDowell,
and others. You can catch Leroy playing regular gigs in St Louis 2-3 times
a week. Stop in and visit with a nice guy and you can hear a bit of history.
Back to "Leroy Jodie Pierson" on Musician Directory Page
Lonesome Dave

Back to "Lonesome Dave" on Musician Directory Page
John Thurman "Long John" Hunter
b July 13, 1931 Ringgold, Louisiana d January 4, 2015 Phoenix, AZ
Back to "Long John Hunter" on Musician Directory Page
Lonnie G. Bonds
b Arkansas - d March 4, 2014 St Louis, MO
Used to be L G Bonds & The Blue Flames playing regular gigs around
St Louis area and frequently at Clark's Baby Doll at Spring & Cass Streets.
Back to "Lonnie G. Bonds" on Musician Directory Page
Lorenzo Boone
Back to "Lorenzo Boone" on Musician Directory Page
Louise (Caldwell) Harrison
b August 16, 1931 England
Sister of George Harrison - Beatles
Louise lived in Benton, Illinois and was visited there in Oct-1963
by George just prior to the Beatles hitting the big time. George hung around
for about three weeks sitting in with The Four Vests and played at the
local American Legion enjoying himself. A few months later The Beatles
appeared on the Ed Sullivan Show in their U.S. debut and became
nationally known. The Harrison house was purchased in 1996 by Jim & Darla
Chady and Connie & Dorothy Schultz and the house was used as a Bed &
Breakfast and also a Beatles museum. In early 2007, the house was purchased
by Sarah Morrison. Sarah also purchased the house next door and intends to
live on the property and maintain a Beatles museum. The city of Benton, IL
honors George's first USA visit with an Annual Geo Harrison Beatles festival.
The 2008 feature band is the Pete Best Band. Pete was the original Beatles
drummer, but was fired after the first record label with Parlophone Records
after playing with the Beatles for 3 years.
In 2008, Louise was living in Branson, MO and working with the Liverpool
Legends - a Beatles Tribute Band - keeping the Beatle's music alive.
Moved to California in December 2014. Wrote a book titled
"My Kid Brother's Band-The Beatles" released 9-1-2014.
Busch Stadium - St Louis, MO Ticket at the whopping price of $5.50.
Louise, however sat in the dugout on August 21, 1966.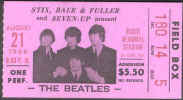 Back to "Louise Harrison" on Musician Directory Page
Copyright © 1998-2021 MojoRat LLC. All rights reserved.