Juke Joint Photos 2019
April - 2019
Weather was not good. Thunderstorms, rain, rain, rain, with abundant lightning.
Power outage & Vendors quit. Some people left Saturday due to cold and rain.
Thousands of Blues Fans from the USA and Overseas Jukin'
in the Land of the Blues. The Joints were operating at Pete's,
Grandma's, Messenger's, New Roxy, Club 2000, Hopson's,
The Chapel, Bluesberry, and Cathead.
Take a peek at the pictures and you might see yourself.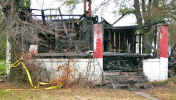 Back to "Events-Juke Joint Festival" page