Jimbo - Hambone - Mississippi Dude
Whatever
James H. Mathus Jr.
b August 30, 1967 Oxford, MS

Married in 2005 to fellow musician Olga, Jimbo was residing in
Memphis, TN or maybe Clarksdale, MS or maybe in Como, MS
or maybe in the van. While not out touring the country with
the Knockdown Society band or playing guitar for Buddy Guy,
Ole Jimbo is being an engineer at his Delta Recording Studio
in Como. Apparently Hambone is pretty good in the control
room as Elvis Costello recorded there along with KM Williams,
The North Mississippi All Stars, Jessie Mae Hemphill,
Arthur Williams, Floyd Lee, and others.
Jimbo hard at work in his recording studio at
257 Yazoo Street uh 257 Delta Ave Clarksdale, MS



OOPS, Jimbo is on the move again 9-1-2006 ... Let's try 209B on the main drag
in Como, MS! Jimbo's Delta Recording Studio is in the U.S. Post Office building
and conveniently across the street from the Como City Hall & the PO Leece!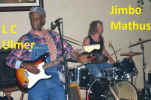 In 1993 Jimbo formed Squirrel Nut Zippers in North Carolina. This Band
was a great success during the Swing Era and performed up to year 2000.
Jimbo reunited with some band members in 2007 and toured until 2010.
In 2016, Jimbo thought it was time to do it again and the Squirrel Nut Zippers
hit the road again on tour. Of course, they are a big hit right into 2019.
Jimbo takes the Blues to New York City
The Rodeo Bar - 375 3rd Ave
New York, NY - May 14, 2005
Back to "James H. Mathus Jr" on Musician Directory Page
Copyright © 1998-2021 MojoRat LLC. All rights reserved.