Eddie C. Cambell
b May 6, 1939 Duncan, MS
Back to "Eddie C. Cambell" on Musician Directory Page
Eddy Joe Cotton - Zebu Recchia
b 1972

Eddy is the main barker for the Yard Dogs vaudeville troupe. The Yard Dogs are a group of free spirits that started out in San Francisco as a small jug band and have now become a full-blown tour group with burlesque dancers,

jugglers, fire eaters, a sword swallower, and an assortment of musical characters. It's difficult to describe the goings on, however it is very entertaining show with over a dozen cast members, numerous costume changes, and a variety of musical scores that range from campfire gypsy through blues, jazz, and rock.
Here's a link to Eddy's zany group-YARD DOGS

According to Eddy's 2002 book "HOBO" published by


Harmony Books, Eddy's mother left him behind at age two with his harley riding hippie father. At age nineteen, Eddy had enough and hit the road. Eddy lived out on the road and roamed around the Western states riding freight trains for about ten years.
Back to "Eddy Joe Cotton" on Musician Directory Page
Eddie James House Jr
Son House
b March 21, 1902 Lyons, MS - d October 19, 1988 Detroit, MI
Back to "Eddie James House Jr" on Musician Directory Page
Ed Abel

Back to "Ed Abel" on Musician Directory Page
Eddie Lee Coleman
Back to "Eddie Lee Coleman" on Musician Directory Page
Ed Doney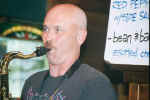 Back to "Ed Doney" on Musician Directory Page
Eddy Barrow

Back to "Eddy Barrow" on Musician Directory Page