Terry "Big T" Williams
b August 12, 1962 Farrell, MS
Played Bass with Johnny Billington at age 11. Quit high school at age 15
to play & tour with the Jelly Roll Kings & Big Jack Johnson.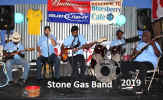 Stone Gas Band was very popular and included Howard Stovall-keyboards;
Terry 'Big T' Williams-guitar; Harvell Thomas-bass; Dione Thomas-drums;
Arthneice Jones-harmonica/vocals; and Patrick 'The Rocker' Murphy-vocals.
You can see a performance from Oct. 5, 1991 in Margaret's Blue Diamond Lounge titled
"Juke Joint Saturday night". This Video recording also includes performances
by Big Jack Johnson and his band including Sam Carr, Big T and David Porter.

You don't have to go all over to see Big T play now, as he's got his own "Blues Joint".
Just git yourself over to 407 Yazoo Ave - Clarksdale, MS
CLOSED in January-2005
Big T has been too busy with his music career to appear regularly
at his club and made the tough decision to close.
Back to "Big T" on Musician Directory Page
Back to "Terry Williams" on Musician Directory Page