Riley B King - B.B. King
b September 16, 1925 on a plantation near Berclair, MS
d May 12, 2015 Las Vegas, NV
13 Grammy Awards - 2008, 2005, 2002, 2000, 1999, 1996,
1993, 1991, 1990, 1985, 1983, 1981, and 1970.
1971 Grammy - The Thrill is Gone
1987 Grammy Lifetime Achievement Award
1980 Blues Hall of Fame
1987 Rock & Roll Hall of Fame
2008 Medal of Freedom Award
On September 13, 2008 The BB King Museum opened in Indianola, MS.
www.BBKingMuseum.org 400 Second St - Indianola, MS 38751 Phone 662 887-9539
Born to sharecropper parents near Itta Bena, MS. He went to Indianola, MS
and at age 17 was singing gospel on a street corner and eventually went to
Memphis, TN and became world famous.
Back to "BB King" on Musician Directory Page
Shirley King
b September 26, 1949 - West Memphis, AR
Daughter of BB King & Mary Elizabeth
Shirley King performed at Bluesberry Cafe in Clarksdale, MS on BB's birthday
anniversary of September 16, 2019. Shirley was a delight and everyone enjoyed her
performance and her humor as she told several stories between her songs.
A large BB King Birthday Cake was enjoyed by everyone.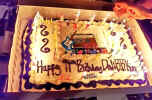 Back to "Shirley King" on Musician Directory Page